Governor Mills and Efficiency Maine Launch Electric Vehicle Rebate Program
Standing in front of a suite of electric vehicles and joined by Efficiency Maine Trust and participating automobile dealers at Brunswick Landing, Governor Janet Mills announced the launch of the Electric Vehicle (EV) Accelerator Program to provide electric vehicle rebates for Maine people Friday.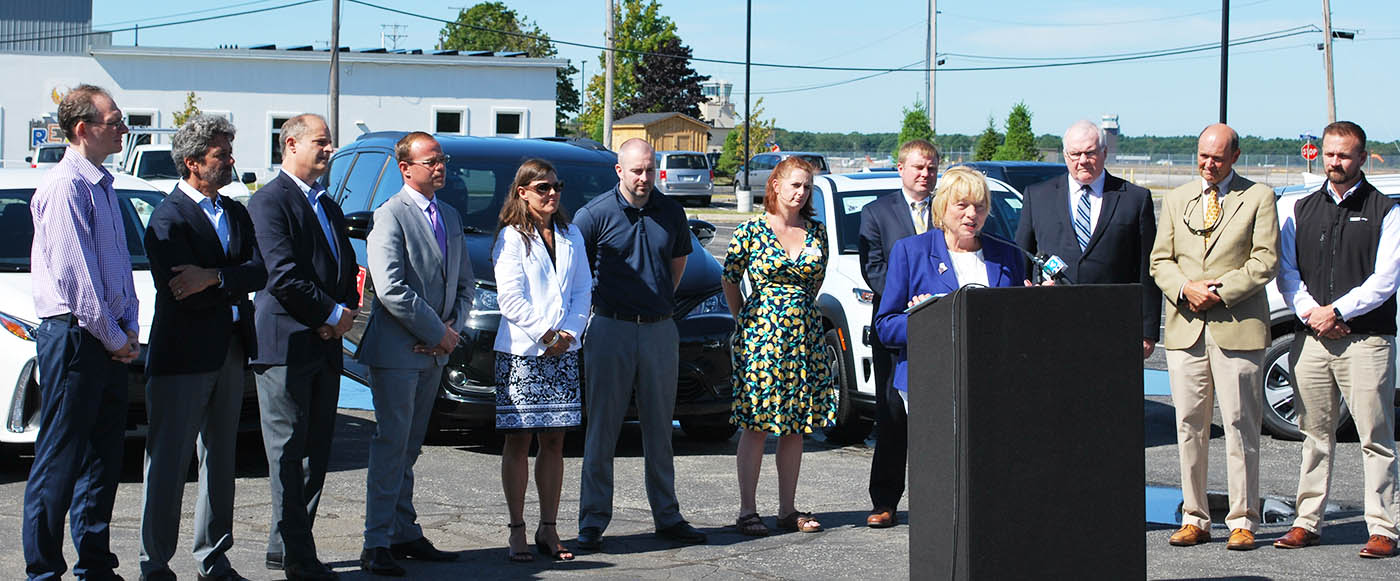 "Maine people shell out five billion dollars a year to out-of-state fossil fuel companies, and a lot of that money is spent on gas for vehicles that just becomes carbon dioxide pumped into our atmosphere. We can do better. It is time to usher in the next generation of technologies that will move our state towards a renewable future," said Governor Mills. "This initiative is a critical step in that direction. By increasing our use of electric vehicles, Maine is making substantial and meaningful progress in transitioning us away from fossil fuels and towards renewable energy sources, which will help slash carbon emissions, combat climate change, and save Maine people money. I am glad to see this funding I won as Attorney General put to good use for Maine people."
In 2017, then-Attorney General Mills won through a settlement more than $5.1 million for the state after taking legal action against Volkswagen (VW) and its affiliates Audi AG and Porsche AG for violating state environmental laws and emissions through their marketing and sales of light vehicles in Maine.
The EV Accelerator Program will use those settlement funds to provide $1,000-$2,000 rebates on qualifying Plug-in Hybrid and Battery Electric Vehicles. It also offers enhanced rebates for low-income households and for governmental and tribal government entities.
"We're excited to be offering a program that will make it more accessible for Mainers to not only save at the pump, but to get into an extremely fun ride that is also kind to the climate. This is what the future of driving in Maine looks like," said Michael Stoddard, Executive Director of Efficiency Maine Trust.
Efficiency Maine's EV Accelerator aims to displace the use of inefficient internal combustion engines with the increased use of high-efficiency electric vehicles in order to reduce harmful air emissions, including NOx and CO2. The Program will help Maine reach its long-range carbon reduction requirements in the transportation sector – Maine's largest contributor of greenhouse gas emissions. Efficiency Maine's EV Accelerator will also help lower the energy and maintenance costs of Maine vehicle fleet operators and Maine drivers, and facilitate a market transformation that will, over time, result in Maine drivers shifting from vehicles that consume high-price, high-carbon fuels to vehicles that operate on electricity.
The EV Accelerator program is offered as an instant rebate for Maine customers – simply go to a participating Maine car dealer.
"Maine's new car dealers welcome the EV rebate program as an assist to their customers looking at this new and exciting technology. Rebate-eligible vehicles are currently available, and many more will be coming as manufacturers expand their EV production. Dealers look forward to the opportunity to introduce customers to the EV products and incorporate any applicable rebate," said Tom Brown, President, Maine Automobile Dealers Association.
For more information on the EV Accelerator Program see the attached program brochure. Program details, the list of eligible vehicles and participating dealers is also available online at efficiencymaine.com/EV.
---
All News